Past Events
Thinking out of the Box on Israel/Palestine (2014) Heading link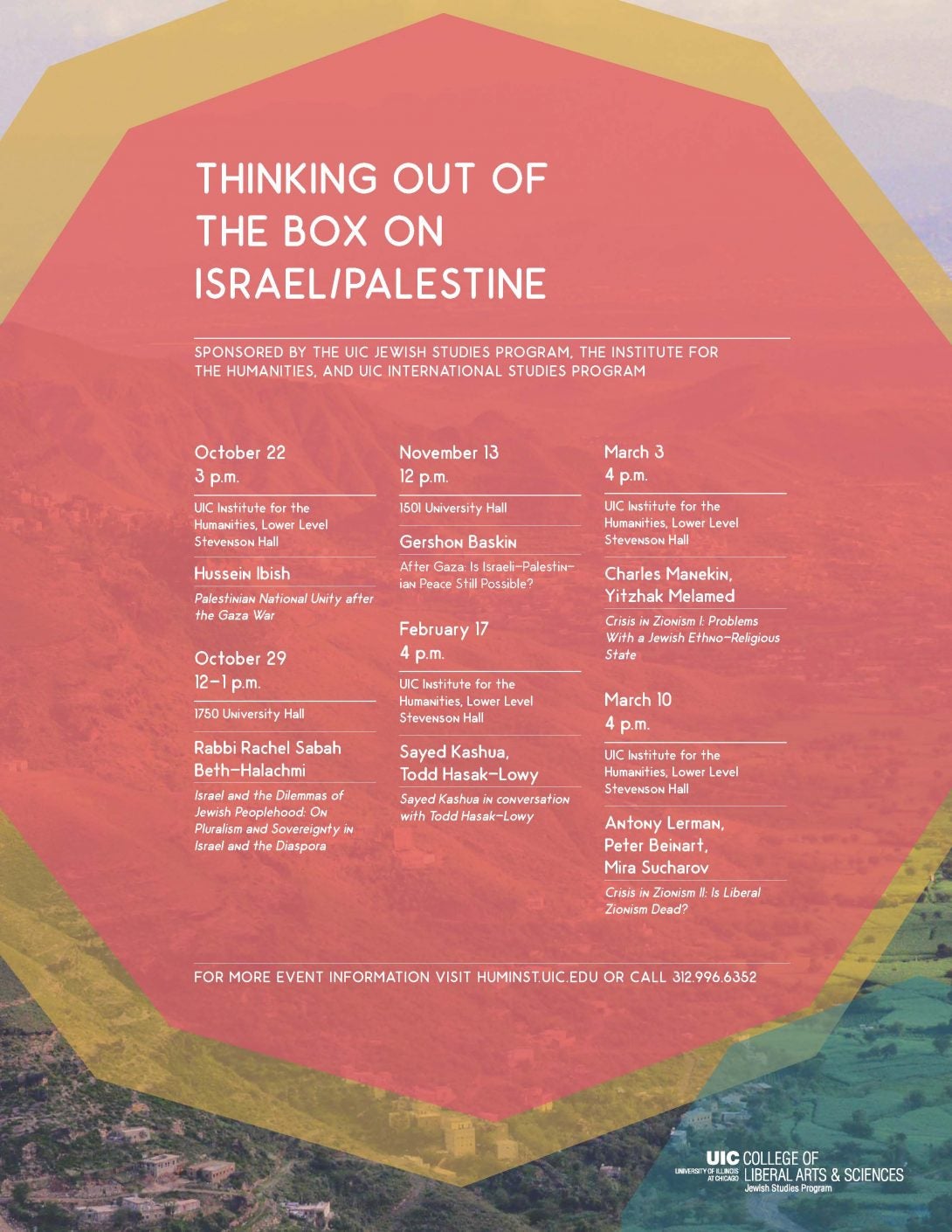 Wednesday October 22nd, 3 p.m., Institute for the Humanities (co-sponsored by International Studies and the Institute for the Humanities): Hussein Ibish, "Palestinian National Unity after the Gaza War".
Ibish is a Senior Fellow at the American Task Force on Palestine. He is the author of three major studies of hate crimes against Arab Americans and the monograph What's Wrong with the One-State Agenda? Why Ending the Occupation and Peace with Israel is Still the Palestinian National Goal (ATFP, 2009). He is a weekly columnist for both The National (UAE) and NOW media and a contributor to numerous other American and Arab publications, as well as a regular guest on the PBS NewsHour.
Wednesday, October 29th, 12-1 p.m., 1750 University Hall (co-sponsored by Metro Chicago Hillel and the Jewish Federation): Rabbi Rachel Sabah Beth-Halachmi, "Israel and the Dilemmas of Jewish Peoplehood: On Pluralism and Sovereignty in Israel and the Diaspora."
Rabbi Sabath serves the Hebrew Union College-Jewish Institute of Religion as the National Director of Recruitment and Admissions, President's Scholar and Director of the Office of Community Engagement. Prior to this appointment, Sabath served as Vice
President of the Shalom Hartman Institute; she also taught liturgy and theology at HUC-JIR in Jerusalem. Ordained at HUC-JIR in New York in 1995, Rabbi Sabath also earned a Ph.D. in Jewish philosophy from the Jewish Theological Seminary.
Thursday, November 13th, 12-1 p.m., 1501 University Hall: Gershon Baskin, "After Gaza: Is Israeli-Palestinian Peace Still Possible?"
Gershon Baskin is the founder and Co-Chairman of IPCRI-Israel Palestine Creative Regional Initiatives: a think tank managed jointly by Israelis and Palestinians, dedicated to promoting a just and sustainable solution to the Israel/Palestine conflict and an end to the occupation. Baskin is also a columnist for the Jerusalem Post, and he has been the co-ordinator of education between the Jewish and Arab school systems in Israel, for the Israeli Ministry of Education. He believes in the importance of dialogue between Israelis and all Palestinians, and is and has long been in regular contact with Hamas officials. Baskin has a Ph.D. in International Relations from the University of Greenwich.
Wednesday, February 17th, 4 p.m., Institute for the Humanities (basement of Stevenson Hall): Sayed Kashua in conversation with Todd Hasak-Lowy.
Kashua is an Arab Israeli writer. He is the author of three novels, a satirical sitcom (Avoda Aravit – "Arab labor") for Israel's Channel 2, and a regular column for Ha'aretz. His columns about leaving Israel, during the anti-Arab riots this past summer – Why Sayed Kashua is Leaving Jerusalem and Never Coming Back and Why I have to Leave Israel – were widely read. Todd Hasak-Lowy is a scholar and translator of Israeli literature, and the author of the novels Captives and 33 Minutes. His young adult novel, Me Being Me is Exactly as Insane as You Being You, is due out in the Spring.
Tuesday, March 3rd, 4 p.m., Institute for the Humanities (basement of Stevenson Hall)
Discussion: "Crisis in Zionism I: Problems With a Jewish Ethno-Religious State"; Speakers: Charles Manekin and Yitzhak Melamed.
The discussion will open with a presentation by Manekin on "The (Too) Jewish State: A Liberal and Zionist Critique of Israel," and a presentation by Melamed on "Loving the Land of Israel by Loving Its People." Manekin is a Professor of Philosophy and Director of Jewish Studies at the University of Maryland. He blogs at MagnesZionist. Melamed is a Professor of Philosophy at Johns Hopkins University, who also participates in its Jewish Studies program. Both speakers are critical of Zionism as it is standardly understood. Melamed opposes all nationalism, and Manekin is a supporter of the global BDS movement and of the Jewish Voice for Peace.
Tuesday, March 10th, 4 p.m., Institute for the Humanities(basement of Stevenson Hall)
Discussion: "Crisis in Zionism II: Is Liberal Zionism Dead?" Speakers: Antony Lerman, Peter Beinart, Mira Sucharov.
Antony Lerman is a British writer who specialises in the study of antisemitism, the Israeli-Palestinian conflict, multiculturalism, and the place of religion in society. From 2006 to early 2009, he was Director of the Institute for Jewish Policy Research, a think tank on issues affecting Jewish communities in Europe. He is a founding member of the Jewish Forum for Justice and Human Rights, and the author of The Making and Unmaking of a Zionist. He also wrote the widely read New York Times article, The End of Liberal Zionism.
Peter Beinart is perhaps the most prominent defender of liberal Zionism today. He is a Senior Columnist at Haaretz, a contributor to the Atlantic and National Journal, a former editor of The New Republic, and the author of The Crisis of Zionism. He is also known for a a 2012 New York Times Op-Ed entitled To Save Israel, Boycott the Settlements.
Mira Sucharov is Associate Professor of Political Science at Carleton University in Ottawa, a regular contributor to Haaretz, and the author of The International Self: Psychoanalysis and the Search for Israeli-Palestinian Peace. In Which Side of the Israel-Palestine Conflict Are You On?, she questions the usefulness of the standard categories employed in the Israel/Palestine conflict.