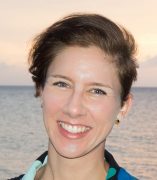 Laura Dingeldein, PhD
Clinical Assistant Professor
Catholic Studies
Pronouns: She/Her/Hers
Contact
Address:
601 S. Morgan St.
Office Phone:
Email:
About
Laura Dingeldein is a historian of ancient Mediterranean religion, with expertise in the beginnings of Christianity. She teaches Religious Studies and Catholic Studies courses at UIC on topics including early Christianity, Catholic history, ancient Greek and Roman religion, world religions, and new religious movements.
Dr. Dingeldein specializes in the historical contextualization of early Christianity through critical comparison with ancient Mediterranean religion and philosophy. Her recent work has focused in particular on the apostle Paul's use of letter writing and philosophical concepts in promoting the spread of Christianity. She currently serves as coordinator of UIC's Catholic Studies program. She received her Ph.D. in Religious Studies from Brown University (2014), her M.A. from Duke University (2008), and her B.A. from UNC-Chapel Hill (2006).
Selected Publications
"Paul the Letter Writer." In The Oxford Handbook of Pauline Studies. Edited by Matthew V. Novenson and R. Barry Matlock, 1-15. Oxford: Oxford University Press, 2020 (online; print forthcoming).
"Historical Thinking with Avatars in an Undergraduate Course on Early Christianity." Co-authors Jeffrey Wheatley and Lily Stewart. The Wabash Center Journal on Teaching 1.2 (2020): 7-20.
"Julian's Philosophy and his Religious Program." In Religious Competition in the Greco-Roman World. Edited by N. Desrosiers and L. Vuong, 119-129. Atlanta: SBL Press, 2016.
"'ὅτι πνευματικῶς ἀνακίνεται': Examining Translations of 1 Corinthians 2:14." Novum Testamentum 55.1 (2013): 31-44.
Education
Ph.D. in Religious Studies from Brown University