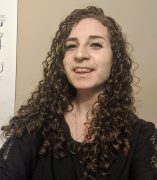 Annie Greene, PhD
Adjunct Lecturer
Religious Studies
Pronouns: She/Her/Hers
Contact
Address:
601 S. Morgan St.
Email:
CV Download:
hours
Drop-In Hours and Classes - Spring 2022
Sunday
Monday
Tuesday
03:30pm – 04:45pm
RELS/JST/CL 225
Wednesday
Thursday
02:00pm – 03:15pm
Drop-In Hours (on Zoom)
03:30pm – 04:45pm
RELS/JST/CL 225
Friday
Saturday
About
Annie Greene is an adjunct instructor of Islam.
Selected Publications
"The Pioneers of Print in the Ottoman Province of Mosul," Journal of Contemporary Iraq & the Arab World 14, no. 1-2 (2020): 51-68.
"Burying a Rabbi in Baghdad: The Limits of Ottomanism for Ottoman-Iraqi Jews in the Late Nineteenth Century," Journal of Jewish Identities 12, no. 2 (July 2019): 97-123.